Rosen Concert Hall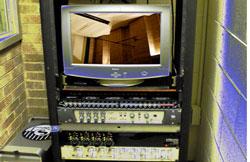 The Rosen Concert Hall is equipped with an Orion 32 ADDA converter using ProTools 9, which allows us to record all concert performances at 24 bits and up to 192kHz sampling rate. In the hall, there is a Decca Tree suspending from the ceiling joists that uses a trio of DPA 4006TL omni microphones through an 8 channel Millenia Media HV-3D preamp. Additional preamplifiers are available with the True Systems Precision 8 as well as the ability to interface with the Recital Hall and Studio C. The system is setup with two Redco mini tt balanced patchbays to provide flexibility for the variety of concert performances and genres that make their way to our stage. Concerts in the Rosen Concert Hall are capable of having live sound reinforcement with an all QSC monitor and mains system and we are capable of doing a 3 way split using our Radial Engineering Jensen 3 way splitters for up to 24 channels of microphone splits. For broadcasting and control purposes, Pro Tools works with a Mackie HUI controller which gives engineers tactile control of nearly every facet of the Pro Tools environment providing to help with balancing material for the broadcast and for the PA needs of the average concert.
Additional microphones from the 1st Floor Microphone locker allow for spot miking, changing out of the main array, use of outrigger microphone positions for larger ensembles as well as full support for live sound of Jazz ensembles with the ability to provide a monitor mixer and a recording feed to the studio. Microphone manufacturers are always being added to our collections but include some of the top microphones from Shure, Sennheiser, Neumann, DPA, Schoeps, Mojave Audio, Audix, and Earthworks. Live sound consoles currently consist of a variety of Mackie consoles varying in the number of channels they can support.
The Rosen Concert Hall is currently our only facility for live video streaming for our concerts and live streams from this hall consist of a team of 2 to 3 engineers working audio, a 3 camera shoot with the Tricaster Broadcaster system, as well as the potential on jazz concerts of having a FOH operator and a team of assistant engineers for setup and tear down. These concerts can be streamed on the Hayes School of Music website for those who are unable to attend the concerts in person and a calendar on the HSOM site of concerts list the performances which are slated for live streaming.
Funds generated from sessions for students, faculty and the general public help go towards the update, upkeep and general maintenance of the equipment and outboard processors necessary to maintain a high level recording facilty. Any questions or concerns about availability of different equipment can be directed to the Chief Recording Engineer, Mr. Scott Wynne.