Studio C/ Recital Hall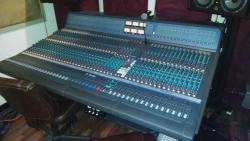 The Recital Hall and Studio C, located inside of the Hayes School of Music, is utilized partially for student recitals and performances by Hayes School of Music ensembles and partially for studio productions. The Recital Hall is equipped with a sound booth, which can be used for live recordings of performances. Live audio streams of students' performances can be accessed here.
Although Studio C is optimized for classical recordings in the Recital Hall, the studio is equipped to handle large multitrack productions of any genre. This facility is a Neve-themed studio with a Amek Media 51 analog console with 40-channels of Neve preamplifiers that Rupert Neve designed during the 1980s and Neve 1073 LB 500 series preamplifiers built by AMS Neve. Along with the Neve preamplifiers, the studio is equipped with a collection of other choice preamplifiers, outboard dynamics and effects processors. Notable equipment includes a Benchmark PRE420, a Universal Audio LA -610, an 8-channel Harrison Lineage preamplifier, along with a Demeter RV-1 and Eventide Reverb 2016. In addition to these outboard effects processors, engineers can also route to the authentic, 4 foot by 8 foot plate reverb built by students customized for the studio. The design is based on schematics from the 1957 EMT 140 Plate reverb and the electronics have been replaced with modern components including piezo pickups run through Radial ProD2 Direct boxes into a modified ART Pro MPA MkII Preamplifier. Studio C utilizes the 1st floor microphone locker with its impressive arsenal of microphones to handle any application from live sound to studio recording of any genre. This collection includes DPA 4011s, Schoeps CMC6s, and multiple Neumann microphones including a TLM 102 pair.
Funds generated by sessions for students, faculty, and the general public go towards the update, upkeep, and general maintenance of the equipment and outboard processors necessary to maintain a high level recording facility. Recent recorded material includes Keith Davis' album, Still, which debuted at number 2 on the CMJ Top Jazz Charts, and was recorded live in Studio C by two recent graduates. Any questions or concerns about the Studio C can be directed to the Chief Recording Engineer, Mr. Scott Wynne.